Khalistani menace as escalating, Punjab police took action against Amritpal. Amritpal was recently emerging as the leader of a re-ignited Khalistani movement in India. He took over the leadership of a group Waris Punjab De, and was desperately trying to establish himself as an all-powerful Khalistani leader. But, as police action began a chase -game between the police and Amritpal is going on since past 11 days.
However, police was trying to trace his moves so far, but in a recent update Amritpal has fled to Nepal
Amritpal in Nepal?
According to the recent media reports, Amritapl is most likely to be in Nepal and is hiding there.
Authorities have already issued a non- bail able warrant and look-out notice against the Khalistani leader. The issue became grave as this cat and mouse game has evaded the boundaries of the nation. However, Indian authorities have asked Nepal government to keep an eye on Amritpal.
Why India's 'Most Wanted' are always found 'safe' heaven in #Nepal?

Asad Ahmad, Yasin Bhatkal and now #AmritpalSingh

The ISI hand is behind this. Since the parachute entry of fraud, Amritpal Singh and to the safe exit in Nepal, Pak ISI is doing everything to disturb #Punjab pic.twitter.com/idi3ETTMVB

— Punjab Panther (@Punjab_panther) March 28, 2023
Indian Authorities in Contact With Kathmandu
Indian government authorities, on Monday have requested Nepal government to not let the fugitive Amritpal run away to another country. And as soon as he is seen, the police must catch him and hand him over to India.
In reply to this request, Nepal's Immigration department officer has given the statement,
"We have received a written note along with a copy of his passport from the (Indian) embassy suspecting that Amritpal Singh might have entered Nepal. The Indian Embassy has sent the note asking the Department to put Singh, a member of a separatist group, on the surveillance list."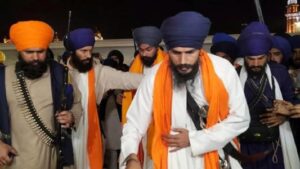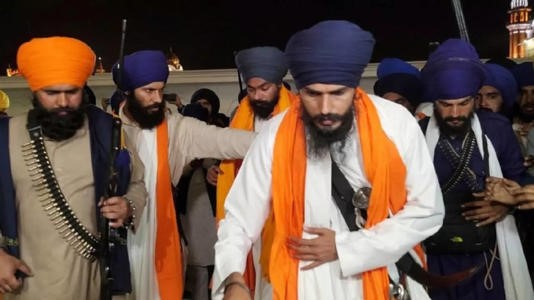 Conclusion
Even the Nepal- India border is on high alert and the Home Ministry has ordered all the agencies to be on vigilance.
The situation seems fishy and not so positive till now. Because a fugitive with all the police force behind him is running away. Therefore, the whole agenda driven Khalistan movement and what kind of powers are behind Amritpal is now getting open before all of us.
---
References-