Again an incident against Hindus got completely ignored by the mainstream media, in Telangana. While Hindu youths were attacked by a mob of Muslim boys in Adilabad of Telangana, all during Ramzan.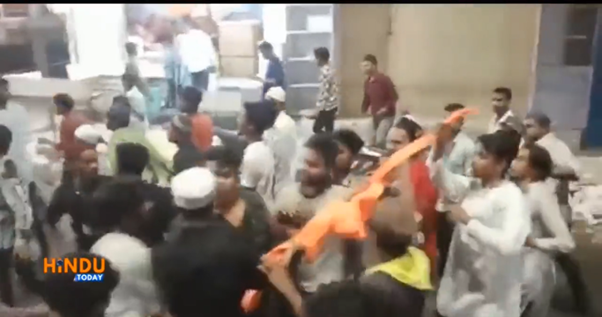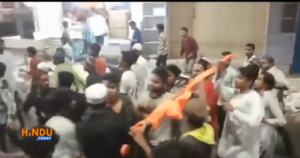 What Is The Issue?
A group of Hindu boys were returning from the Ambedkar Jayanti rally, having saffron flag in their hands. And this became a point of confrontation for the Muslim group. A group of similar young Muslim boys attacked the Hindu boys for entering in their areas.
The street fight got quite averse which was reported by the victims later.
As in the video it could be seen that the mob is snatching the saffron flags and chasing the Hindus away.
During Ramzan, Muslim Jihadis attacked Hindu youth when they were returning from Ambedkar Jayanti rally. Apparently, Jihadis didn't like the one Saffron flag in the crowd.

?Adilabad, Telangana.pic.twitter.com/z47ltmQNLW

— Treeni (@_treeni) April 17, 2023
Police Arrested BJP Leaders
This issue garnered protest from the Hindu groups and Bharatiya Janata as well. Because as the case got reported in police, the investigation was not going on well. Until now police was only able to catch 4 culprits.
BJP leaders and karyakartas are arrested by the police for protesting against it.

No action on the atta¢kers and those who have insulted the sacred Hindu flag but arresting BJP leaders for protesting against it?

Secularism ?? pic.twitter.com/OG6DrtVMyc

— Gems Of KCR (@GemsOfKCR) April 17, 2023
So to show a protest against the police's deliberate ignorance of the attack on Hindus, BJP did dharna. This protesting group of BJP has been arrested by the police.
Therefore, it such an ironically sad situation that the attackers who initiated the whole row is not charged by police. Rather, those who are trying bring the issue into light are arrested.
The going on situation of attack and deliberate instigation of violence against Hindus is taking a toll now. Every other day a new event is provoked by the mob violence which is trained and equipped to do anything against law. And they are even confident that law cannot do anything against them.
---
References
Twitter- Gems of KCR @GemsOfKCR