In Tamil Nadu, where culture and tradition run deep, the Sanatani population took a powerful pledge. This Sanatana Dharma pledge is set to reshape the political landscape of Tamil Nadu and Bharat. It's a pledge to never vote for leaders who oppose or undermine Sanatana Dharma. Will this flip the political loyalties in the upcoming 2024 general elections battle? Will this pledge be the savior of Tamil Nadu, the temples, and the Sanatanis from DMK's Dynastic Rule? Is Tamil Nadu showing the path of Dharma to Bharat?
Tamil Nadu's Need to Preserve the Essence of Sanatana Dharma
Tamil Nadu is a hotbed for anti-Sanatana politics. The reigning DMK is known for its pseudo-communism and anti-Brahmanical outlook. Thus, it has ensured that the majority of Tamil Nadu is crushed under HRCE, anti-Hindu regulations, and brainwashing of students against Sanatana Dharma.
However, DMK supremo Stalin and his son, Udhayanidhi, forget that Sanatana Dharma is not merely a religion; it's a way of life. It is scientific knowledge distilled over centuries that encompasses spirituality, philosophy, psychology, astronomy, and culture. For centuries, the people of Tamil Nadu have upheld the core values of Sanatan Dhamra. However, the recent 'Eradicate Sanatana Dharma' and similar rhetorics have angered the Hindus of the region. Moreover, such claims and their follow-up have raised concerns in the hearts of Sanatanis about preserving the essence of Dharmic values. Thus, Tamil Nadu may be ready for a face-off with those politicians that support the ideology of cultural subversion foremost in their policies. 
The Sanatana Dharma Pledge That Empowers the Masses
Hindus in Tamil Nadu take pledge that they will not vote for any leader who opposes Sanatana Dharma. This must be done across Bharat by all Sanatanis. (If you know Sanskrit, you can catch words such as agni sakshi, devam, madham, kuttumbam) pic.twitter.com/FBJ3pugwJY

— Rakesh Krishnan Simha (@ByRakeshSimha) October 3, 2023
In response to DMK's war cry against Sanatana Dharma, a Sanatani pledge has emerged as a symbol of unity and determination among the Dharmic followers of Tamil Nadu. This pledge is not just a promise; it's a commitment to protect the essence of Sanatana Dharma.
It is a vow that should resonate within the hearts of millions of Hindus in the state. The pledge empowers all Sanatanis; cutting across caste, creed, and social status. It has the potential to change the course of politics and governance.
The pledge is to ensure that those against Sanatana Dharma will not be voted into power by the Dharmic followers. The pledge denotes the determination of the majority to fight for their beliefs and defend the religion of their birth. The DMK and INDI alliance are busy suppressing Sanatana Dharma and its followers. Thus, this pledge by the masses should act as a wake-up call to these politicians. The pledge denotes that the Hindus of Tamil Nadu are ready to take back power from their oppressors. Therefore, INDI alliance should beware of this might of Sanatanis. Their anti-Hindu policies may soon leave them in political shambles in the nation.  
Is Annamalai A Ray of Hope in Tamil Nadu?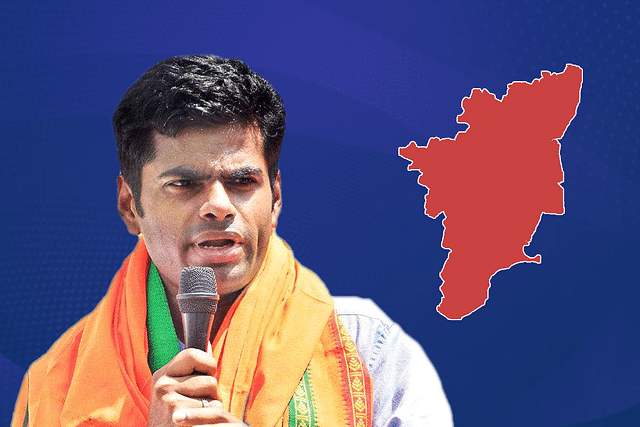 Annamalai Kuppuswamy, a former IPS officer, has emerged as a prominent figure in this movement. His decision to join the BJP resonated with the principles he seeks to preserve. Moreover, his work in Tamil Nadu has struck a chord with many Sanatanis. Additionally, his vision aligns with the recent Sanatana Dharma pledge. He repeatedly emphasizes the need to protect Dharmic values that make Tamil Nadu unique.
The pledge to support leaders who uphold Sanatana Dharma and oppose those who threaten its principles is not just a political statement; it's a call to preserve Tamil Nadu's cultural heritage. Thus, it seems Annamalai's padayatra was able to unite the Sanatanis for the common cause under the Bhagwa flag. Moreover, his influence was able to transcend political affiliations by uniting common Hindus against those who seek to harm Sanatana Dharma. Does this mean that BJP's Annamalai is a ray of hope for BJP in the upcoming general elections? Are the people ready for the change in Bharat that may start from Tamil Nadu? 
A Sanatana Dharma Path for Bharat
May Paramatma grant this pledge with national momentum. May it serve as a reminder that the power to shape the future of Bharat lies in the hands of people who vow to save Dharma. Moreover, may those who commit to this pledge, remain faithful in the face of freebies and 'kambal' politics in the 2024 general elections. 
The Sanatana Dharma pledge by Tamil Nadu's people is an example on how to walk the path of Dharma in Bharat. The Sanatana Dharma pledge reflects their determination to safeguard the Dharmic values that have defined Bharat's societies for centuries. With leaders like Annamalai Kuppuswamy leading the way, there is hope that Tamil Nadu's Sanatana Dharma, with its cultural richness, shall not just survive but thrive. May Paramatma etch this pledge in the hearts of every Sanatani in Bharat, serving as a guiding principle in both their political choices and daily lives. Let us all learn from this pledge that resonates with the past, shapes the present, and holds the promise of a brighter future for Tamil Nadu and Bharat.