No one seems to be batting an eyelid as unrelenting attacks against Hindus continue unabated in Bangladesh. Pakistan or Bangladesh, Hindus are under attack, and in Bangladesh, Hindus have been brutally assaulted. As a result of every major organization becoming a stronghold of Abrahamics, Hindus have become a pariah for everyone. No one will raise their voices against assaults, attacks, brutalizations, tortures, or misappropriation of Hindu culture.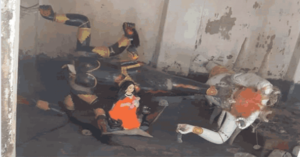 Vandalizing The Temple
In Bangladesh, a Kali Maa temple was vandalized in the Dautiya village. Kali Maa's idol was found broken into pieces, and the head was found far from the temple grounds. This act smacks of deliberate malice and ill-intentions, especially after Navratri. Hindus venerate the deity and have worshiped it since colonial times. Police are on the lookout for the perpetrators, but the reality is well known.
As Amit Kumar Burman, ASP of Jhenaidah police stated, "A case has been registered and the suspects are being traced. Barring this incident, this year Durga Puja festival was celebrated peacefully across Bangladesh."
Earlier this year, temples were vandalized in July, August, and September, as well. As a result of a Facebook post, fanatic Muslims damaged a temple, some Hindu grocery stores, and many Hindu homes on July 16.
On August 6, three madrasa students were detained by the police for allegedly damaging Hindu deities. The incident took place at the Kainmari temple in the Mongla Upazila of Bangladesh. All this occurred because of the infamous Muslim intolerance. The temple authorities had simply asked them not to play football on the field next to the temple.
Not The First Time
Ruffians deliberately destroyed various pandals and idols at Kashipur Sarbajanin Durga Temple in Barisal before Durga Puja in September. Violent Islamist attacks are nothing new, especially during Hindu festivals. Several temples and pandals were damaged and destroyed last year during Durga Puja. Several temples have been attacked and Hindu pilgrims have been assaulted in Chandpur's Hajiganj, Chattogram's Banshkhali, Chapainawabganj's Shibganj, and Cox's Bazar's Pekua. Hindus were brutally attacked by Islamists, resulting in six deaths and multiple were injured.
There have been relentless attacks on Hindus from all quarters, not only in Islamic nations but also within India itself. Due to Hindus' long-time silence on atrocities, they have been victimized by, these attacks are happening. There is no limit to Islamic religious fanaticism, as evidenced by the recent attacks in Leicester. Hindus need to unite and speak boldly because no one else will do that for them; the sooner the realization comes, the better.
---
References: