Yogi's model of bulldozing properties and establishments of anti-India characters is the right way to go deal with them. This is being replicated by various governments in India, and this should be the way forward.
In recent months, an unusual sight of bulldozers has been heartening to see, especially for nationalists. Bulldozers have become synonymous with Yogi Adityanath's response to anti-nationals. The bulldozers were used heavily in Uttar Pradesh not only to break down the strongholds of dons, goons, gangsters, and terror sympathizers but also to show that laws of the land and fellow citizens couldn't be taken for granted. The fear of dons like Ateeq Ahmed, Mukhtar Ansari, and Sunder Bhati once gripped the state of UP. Today, it's a drastically different story.
Yogi's No-Nonsense Attitude
Yogi's bulldozer drove down properties that the goons had acquired illegally. Besides committing crimes, they also supported those working against national interests. Seeing notorious state criminals developing a fear of the law is a welcome change. By preventing riots and anti-state characters from seizing control, Yogiji has proven himself to be an effective administrator.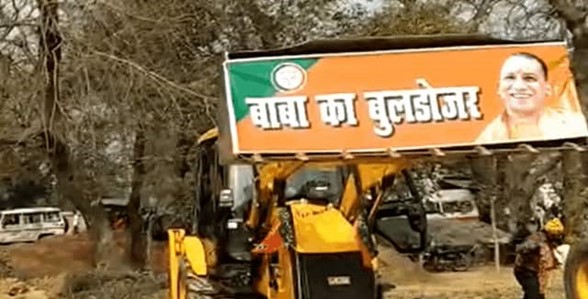 In today's society, breaking civility rules and adopting a Bahubali mentality is out of place. Times have changed, as have sensibilities. U.P. had a tarnished reputation of being controlled by goondas and mafias. The fact that so many Islamic extremists were involved in rioting and violence is pertinent to note. In the anti- CAA and NRC riots, the majority of violators belonged to the peaceful samuday.
Criminals have learned from Yogi that their anti-state activities will not be tolerated further out of a sense of secularism. Therefore, it was strange to see those pelting stones in other states showering flowers on Hindus in U.P.. Yogi's no-nonsense approach to criminals, irrespective of their caste or religion, helped him win elections with a thumping majority.
Repetition across India
The bulldozer model developed by Yogi is now being adopted by many governments in India, and rightfully so. It is time to curtail the administration's excessive tolerance toward rioters, violence propagators, and barbarians immediately. Recent celebrations of Hindu festivals exposed the Bechara Musalmaan's intolerant, hateful, and violent nature. Muslims instigated violence against the Kafirs and disrupted Shobha Yatras across India as part of a planned and systematic campaign.
Using the same tactic, they attacked the Ram Navami procession in Khargone (M.P.). Demonstrators attacked Hindus with stones and small arms, vandalized property, and injured them. As expected, many of these perpetrators live in homes constructed under the PMGAY scheme but turn them into places of violence. With a no-nonsense approach, the M.P. chief minister demolished the houses of these anti-Indians as well.
Jehangirpuri Violence and Secularism of Supreme Court
As is their standard ruse, these attackers attacked a VHP procession in Delhi recently during Hanuman Jayanti. Alas, secularism means Hindus cannot celebrate their own festivals on their own land, which is sad and disheartening. As shocking as this is, these riots happened in Delhi, where the police apparatus is managed by the Home Ministry. But why is it shocking? Because this government was allegedly elected on the plank of Hindutva, but the interests of Hindus have conveniently been ignored. It is all thanks to Indian secularism.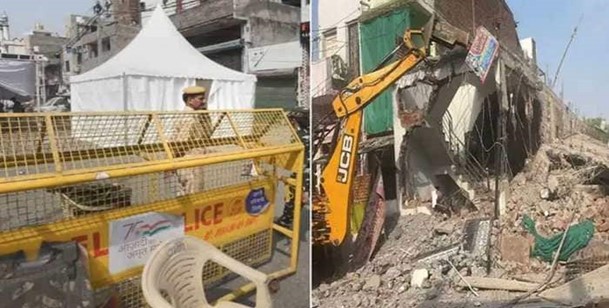 Finally, good sense prevailed and bulldozers were used to destroy those homes used for violence and rioting in Delhi. It was an imperative step because fear of the law and respect for the motherland should be ingrained in all. But when our exceptional judiciary stepped in immediately to safeguard anti-India forces, who is to respect the laws of the land? Resultantly, this raises a valid question: why didn't the SC act swiftly when Hindus were targeted and massacred in Bengal? Did they not deserve justice? Or are laws of the land unequal?
Conclusion
The divisive policy of vote-bank politics has made Hindus second-class citizens in their own country. To continue living freely without being subjected to oppressive Shariah laws, Hindus must act quickly and raise their collective voices.