There are such names in history which get burdened by the annals of history and their accomplishments never really come at the fore front. Maharana Amar Singh was one such resolute ruler of Mewar who was a key in sustaining the Mewar's challenge against Mughals. At the time when Bharat was ravaged under the atrocious Mughal rule, Sisodiyas stood tall and fought the Dharma Yuddha.
Early Life of Maharana Amar Singh
Amar Singh was a worthy son to Maharana Pratap and the queen of Mewar, Ajabde Punwar. He was born in the year 1559, March 16. And, the same year his grandfather Rana Uday Singh established the foundation stone of Udaipur city. The history the first born to Pratap Singh and Ajabde, Amar was dearly called 'Amraa'. From the very childhood he had proved his strong will to follow the path of his father and upholding the glory of Sisodiya Rajputs.
In the words of Col. James Todd-
"All comments is superfluous on such a character as that of Rana Amar. He was worthy of Pratap and his race. He possessed physical as well as mental qualities of a hero, and was the tallest and strongest of all the princes of Mewar. He was not fair as others of his race, and he had a reverse bordering on gloominess, doubtless occasioned by his reverses, for it was not natural to him or to his family.
He was beloved of his chiefs for the qualities they most esteemed, generosity and valour, and by his subjects for his justice and charity, of which we can judge from his edicts, many of which yet live on the column or the rock."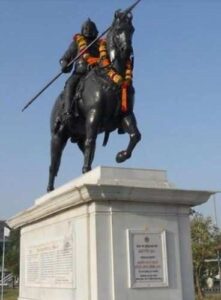 On Expeditions with his father
From a very young age, Amar Singh had followed Maharana Pratap in battles and expeditions. Similar to his father's childhood, he never lived like one of the princes. Amar Singh spent his childhood in understanding the large battlefields of Aravali. Therefore, this made his built and physical strength unmatchable.
In a significant event, when there were peace treaty delegations sent by Akbar to Rana Pratap, Amar Singh was the one to lead Mewar's delegation at the age of 16. This was before the battle of Haldighati in 1576. During the battle, Amar Singh was not taken into the battlefield because he was the heir of the throne of Mewar and in any case of mishap, he could continue the war.
Therefore, these tough situations were the building blocks of Amar Singh's character.
After the preparation of 8 years, the Battle of Dewair was very significant which showcases the military might of Prince Amar Singh.
Coronation of Amar Singh
Coronation of Amar Singh ji was after the sudden demise of Maharana Pratap on 19 January 1597. Since, Amar Singh was the eldest and ablest son he took to this great responsibility. And with an equal vigour he resolved to continue the war against Mughals.
Hence, here begins the series of invasions by Mughals. First one, in 1599, under prince Salim (later Jehangir). Mughals had built various outposts in Chittor, Mandalgarh, Bagore, etc. but, Rajputs defeated and killed Sultan Khan Ghori. This was a failure for Salim and a victory for Maharana Amar Singh.
However, again in 1605, when Jehangir became Emperor he sent an army of 22 thousand horses and artilleries. But this again proved a disaster for the Mughal army because Rana Amar Singh defeated them badly at Dewair pass.
Fighting endless wars and Revival of Mewar
Although, against all odds, Amar Singh ji continued to fight battles one after the other. 1608 Mahabat Khan attacks Unthala, campaign by Abdullah Khan in 1611 and King of Nurpur sent by Jahangir, but against all odds Rana Amar Singh decimated the large armies of these generals.
But one of the last attacks under the direct observation of Jahangir, stationed at Ajmer, launched against Mewar. Prince Khurram (Shahjahan) was leading it with almost tens of ablest Mughal generals. And this time the capital Chavand was also taken from Mewar. But, to sustain his subjects in limited resources and tackling situation a peace treaty was signed with Mughals. And not to say, against the will of Maharana Amar Singh.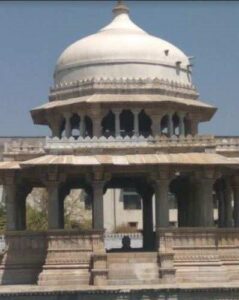 Conclusion
The continuous fight for Dharma against the Melecchas was the goal of Maharana Amar Singh's life which he shouldered with complete devotion. But, the situations did not favour this lion and history also did not give him a due place of magnanimity. His story of valour needs to be revived and sung gloriously to recount the sacrifices.
---
References-