Trudeau's Turbulent Canada has a disturbing trend of rising hate crimes. Khalistani terrorists repeatedly target Hindu temples in the nation. Reports state that a fresh spurt of vandalism has defaced the Shree Mata Bhameshwari Durga Devi Society temple in Surrey, British Columbia. The incident highlights the need for increased security and vigilance in the nation. Moreover, this second incident, just a few weeks apart, underscores that the Hindu community must remain on high alert to prevent any further escalation.  
The Incident
Khalistani extremists blackened the walls of the Hindu Temple in Surrey with hate-speech written with spray paint. A few weeks ago, another temple in Surrey fell victim to a similar act of vandalism. Both occasions were marked by anti-India slogans, like "Punjab is not India", sprayed on the temple walls. Since the Khalistani referendum event in Surrey for the 10th of September 2023 was canceled, Hindu symbols have become a target for fear mongering. These attacks on Hindu symbols may be the extremists' way to publicly protest against the cancellation.
Following the incident, the Surrey police were promptly alerted. The authorities have assured of swift and strict action against the perpetrators. However, the growing number of similar incidents have wrought havoc in the minds of Hindus in Canada. It is crucial for law enforcement agencies to take these attacks seriously. In addition, they must investigate such acts thoroughly to bring the culprits to justice as soon as possible.
The Repeatedly Unleashed Terror
Such cowardly acts of aggression by Khalistani extremists create a sense of fear and insecurity in the Hindus of Canada. Therefore, such incidents should be marked as not only an attack on religious freedom but also a blatant attempt to spread terror. However, the temple in Surrey is not the first to have faced such attacks of vandalism.
In the past, temples in Mississauga, Brampton, Toronto, and elsewhere have been desecrated with anti-India graffiti and slogans like 'Khalistan Zindabad, Hindustan Murdabad.'
Similar attacks on Hindu Temples in Canada are as follows:
On 12th August 2023, another Hindu temple in Surrey, British Columbia was vandalized with Khalistan referendum posters at its entry gates. 

On 5th April 2023, a BAPS Swaminarayan temple in Windsor, Ontario was vandalized with anti-India and anti-Modi graffiti on its walls.

On 14th February 2023, Ram Mandir in Mississauga was vandalized and defaced with anti-India graffiti.

On 31st January 2023, Gauri Shankar Mandir in Brampton, Ontario was vandalized with anti-India graffiti.

In September 2022, Swami Narayana Temple in Toronto was defaced with pro-Khalistan graffiti. 

On 18th July 2022, a Hindu temple in Mississauga, Ontario was vandalized with anti-India graffiti.

On 1st July 2022, a Hindu temple in Brampton, Ontario was vandalized with anti-India graffiti

On 12th February 2022, a Sikh Gurudwara in Brampton, Ontario was vandalized with pro-Khalistan graffiti.

On 15th January 2022, a Hindu temple in Richmond Hill, Ontario was vandalized with anti-India graffiti.
The Disturbing Pattern of Extremism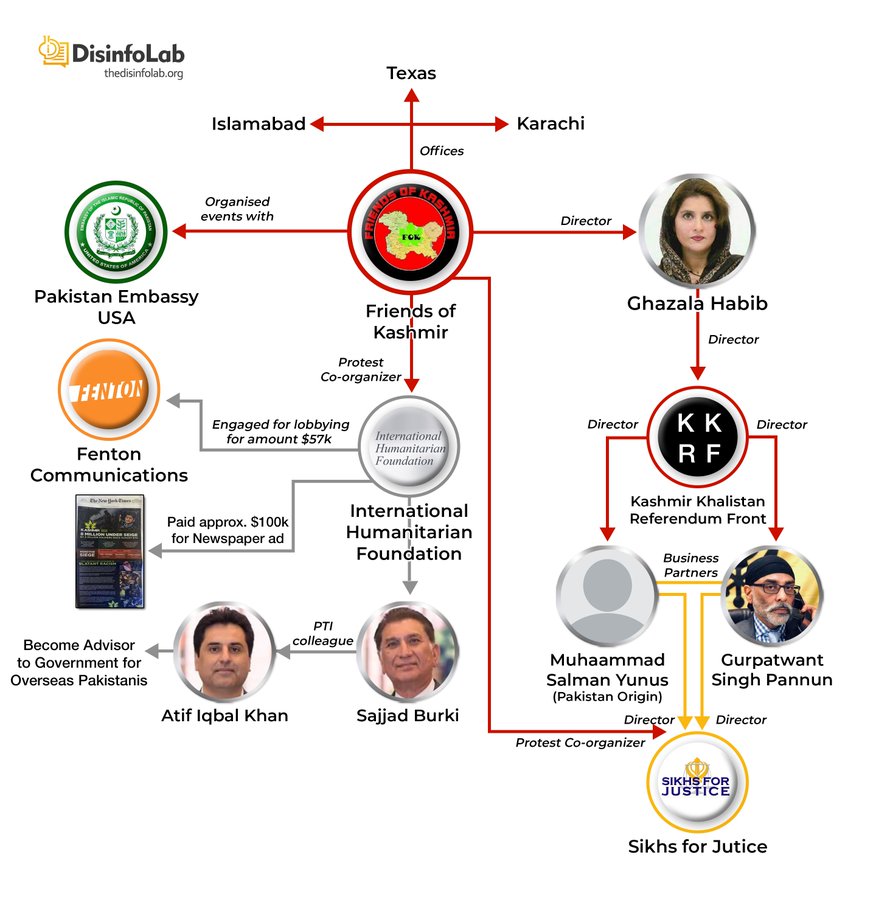 These repeated attacks on Hindu temples display a disturbing pattern that extremists use to push the buttons of the Indian government. Most of these actions are associated with the banned outfit Sikhs For Justice (SFJ). This organization promotes the cessationist views on Pakistan. Moreover, this organization has Pakistani links. Thus, it is clear that those who accept this ideology are not the Indian Sikhs but those who are paid with Pakistani money. The hateful rhetoric and actions are aimed at dividing Indian communities in Canada. It is ensured that the Indian Sikhs are isolated by these actions. Thereby, making them a prime target for this group to brainwash.
The Canadian administration keeps repeating promises of action., However, any true acts of cooperation between Bharat and the Indian community are yet to be observed. Therefore, the only call the Indian diaspora can make is to unite in increasing security measures for self and property protection. Canada's loose-limbed approach to issues related to Indian interests and concerns should be appropriately challenged by the Indian government. Thus, the two nations must work together to resolve the presence of Khalistani terrorists in Canada. Moreover, the local Indian community must continue to stand together against any form of religious intolerance and terrorism perpetuated in the name of Khalistan.