Several Hindu students from Punjab University in Pakistan were injured during Holi celebrations . The incident occurred when a group of Muslim students allegedly attacked the Hindu students with stones and sticks, causing injuries.
What is the issue?
The incident happened in the Law College of Punjab University of Punjab. In the campus of the university, 30 students gathered to celebrate holi festival. Meanwhile, the group named Islami Jamiat Tulba's activists interrupted the gathering. And, they forcefully tried to stop the ongoing celebrations. Eventually, 15 students were beaten and they got injured during the clash between the group of Hindu and Muslim students.
Pakistan: Hindu students were beaten and manhandled by radicals at Punjab University, Lahore during a Holi celebration.

Video credit: @PSCollective_ pic.twitter.com/Im0zF8lWCi

— The Pamphlet (@Pamphlet_in) March 7, 2023
Khet Kumar was one student who suffered in the clash even said that university guards also beaten them up.
Anti-Hindu campus
While this incident is nothing new in context of Pakistan's Islamic status. The spokesperson of the Islami Jamiat Tulba said that nobody of his group was involved in this brawl. He even added that at the same day a 'Quran reading' session was organised by his group in the University campus.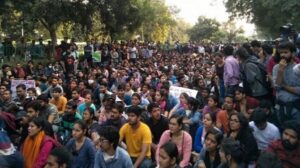 The spokesperson of Punjab University, Khurram Shahzad told that the administration had not given any permission for celebrations.
The incident is quite suspicious however, not unbelievable because Pakistan has this mentality towards every kafir.
Following the incident, several Hindu organizations in Pakistan have condemned the attack and demanded action against the perpetrators. They have urged the government to ensure the safety of minority communities and take steps to prevent such incidents from happening in the future.
Hindus in Pakistan face genocide
When the students gathered before the VC office to protest they were beaten by the security guards. The video of this incident is making rounds on social media and Pakistani media has also reported that. Therefore, this is a serious situation that even the institutions in Pakistan are not safe for the few remaining Hindus.
This incident is not the first time that members of minority communities have been targeted in Pakistan. Over many years, there have been several instances of violence and discrimination against Hindus in Pakistan. Since the partition up until now the attacks and subversion of Hindus has not stopped. And, now the Hindu population of Pakistan has significantly reduced to almost 1 percent.
Conclusion
The regime of Pakistan has been criticized for its failure to protect minority communities and take action against those responsible for such incidents. In conclusion, the attack on Hindu students during Holi celebrations at Punjab University is a disturbing incident that highlights the ongoing discrimination and violence faced by Hindus in Pakistan.
---
References-