When the Women's Reservation Bill was brought to the table in Lok Sabha on 21st September 2023, it was opposed by only two ministers. Both the ministers belonged to Mr. Asaduddin Owaisi's AIMIM party. He objected to the bill on the grounds of discrimination against religious and social minorities. However, it is well known that the motivations and positions of the AIMIM party leaders are mostly influenced by Islamic ideology, vote-bank politics, and their creative interpretation of social issues to suit their supporters. This mindset has colored the Women's Reservation Bill as well.
Traditional Islamic Interpretations – A Probable Cause of Opposition
The Islamic social customs are usually interpreted by Islamists with a severe dogmatic approach toward religion. Most Muslims in India fall under this category. They prefer to stick to literal versions of Islamic laws rather than allegorical interpretations. Moreover, they usually do not tolerate moderate or progressive views to be practiced by the Umma. Thus, the Muslim party and their leaders have chosen to vote against a Women's Reservation Bill in Lok Sabha under the guise of injustice to minorities. However, it seems that they wanted to serve the larger Islamic extremist view of women and have registered their protest under false allegations.
Here are a few possible reasons why Asaduddin Owaisi and his AIMIM colleague voted against the bill: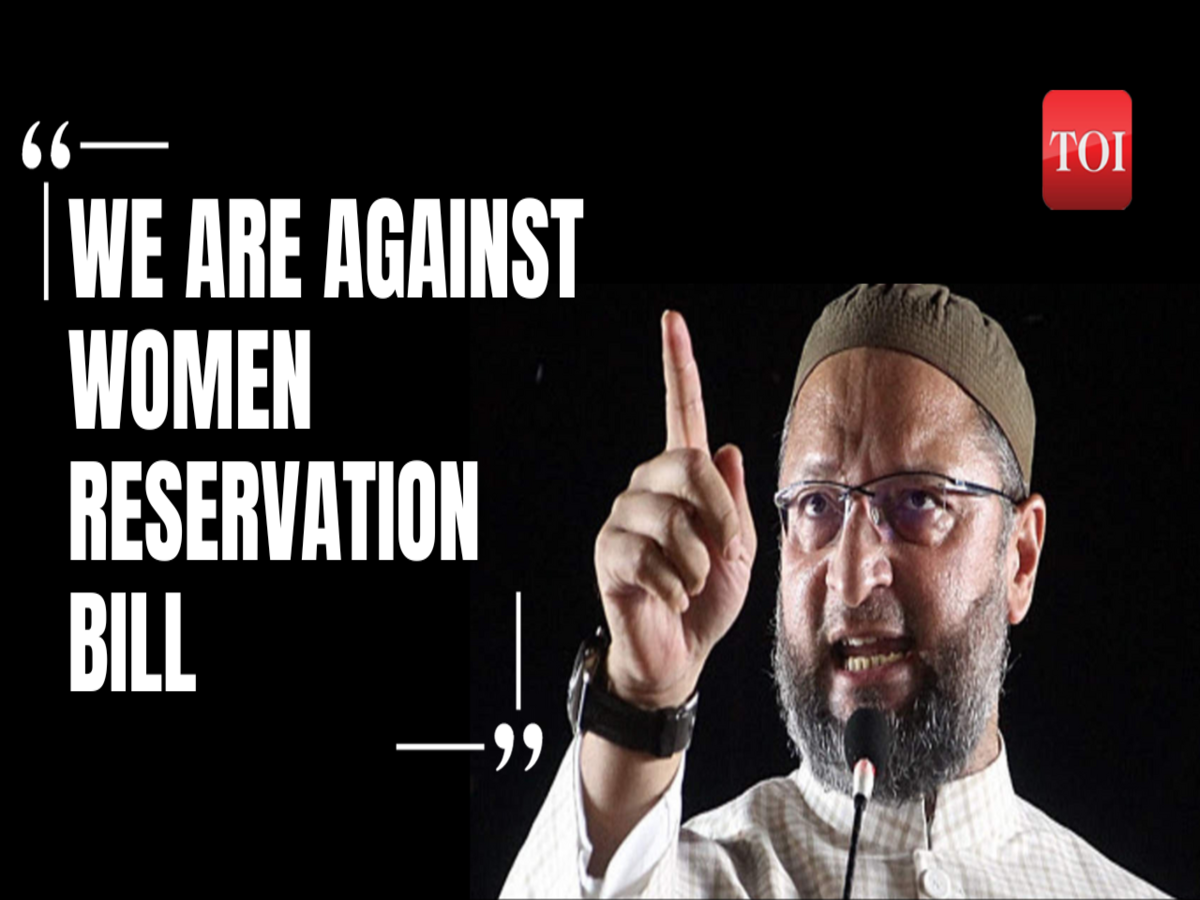 1. Patriarchal Norms
An Islamic religious society is traditionally patriarchal inclined. However, its patriarchy is not limited to inheritance, marriage, and divorce laws. It also extends its control over women in terms of clothes and public appearance. When the reservation for women is enforced, Muslim women will be encouraged to step out from the shackles placed upon them by religious zealots. This can be a primary cause for Islamists to oppose the Women's Reservation Bill.
2. Fear of Losing Control
Some Islamist leaders may fear that increased representation of women could result in a shift in the power dynamics of the country. They may fear losing control of their sheep-like women to exposure to seats of power. In such conditions, women may no longer pay blind obedience to Islamic practices that oppress women. Thus, the men of Islamic societies may conclude that the bill will reduce their influence over Muslim women. This fear of losing control may be a cause of resistance against the Women's Reservation Bill.
3. Religion Gender-Discrimination
Some Islamists may find Women politicians are contrary to their conservative or rigid interpretations of religious texts and traditions. The prevalent gender discrimination in Islamic practices may be a cause for resistance to all reforms related to gender equality.
Why do Women need Reservation in Parliament?
When the AIMIM leader opposed the bill, he presented facts and figures that highlights the paucity of women politicians from religious and social minorities elected to the parliament since independence. The leader tried to use these figures to oppose the bill under the guise of a need for reservation within the reservation for women.
However, what the AIMIM forgot to add was why women politicians are usually not considered heavyweights in the political arena.
The lack of women leaders in Bharat is due to a strong repulsion of voters to women in power. Thus, there are very few women who have the mass appeal to attract or sway votes. Moreover, the Muslim community holds a strong religious bias against women in general. Thus, given a choice Islamic zealots will often vote against women politicians in elections. Therefore, the voters' preference for gender also guides the choice of representatives in the parliament.
To deface the parliament led by a BJP government, AIMIM used figures to misrepresent the truth of voter dynamics in the Lok Sabha. The Women's Reservation Bill aims to correct this bias against women. The bill will ensure that political parties will support women candidates in elections to meet the 33% quota. Thus, the bill represents a major breakthrough in the political landscape of Bharat.
What's Next for the Women of Bharat?
Since the Women's Reservation Bill was passed in the Lok Sabha with just 2 votes against it, it seems that its journey in the Rajya Sabha shall also be smooth. The bill will soon become a law. However, this law will only be enforced after delimitation and population census. A probable date for its enforcement is in the year 2029, after due process. These factors are not unique to any specific political party or community. The Bill shall be effective only when the women of Bharat and the nation itself are ready for the big change.
The leaders of AIMIM and their specific opposition to the Women's Reservation Bill shall be remembered for eternity. They may assume that they will be remembered as champions of the minorities. However, most women will know that they stood against the rising Nari Shakti in Bharat. Bharatiya women shall mark 21st September 2023 as the day when Islamists tried to stand in their path of progress and equality. They will mark the fake compassion these leaders displayed for minorities to oppose a bill aimed at gender equality in Bharat.