Kunwar Singh served as a leader in the 1857 Indian Rebellion. He was a member of the Ujjainiya clan of the Parmar Rajputs of Jagdispur, which is now a part of the Bhojpur district in the Indian state of Bihar. At the age of 80, he led a small group of armed men in an attack on the British East India Company's forces. He was in charge of planning the battle in Bihar against the British. He goes by the name Veer Kunwar Singh.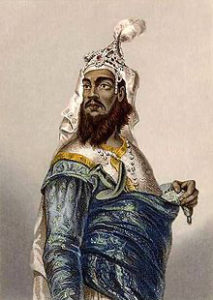 Indian Rebellion of 1857
The Bihar-based Indian Rebellion of 1857 was headed by Singh. When he was asked to take up weapons, he was about 80 years old and in poor condition. Both Babu Amar Singh, his brother, and Hare Krishna Singh, his commander in chief, gave him assistance. Some contend that the latter was Kunwar Singh's true secret to his first military victory. He was a formidable foe who tormented British soldiers for almost a year. He had mastered the techniques of guerilla warfare. The British were occasionally perplexed by his tactics.
On July 25, Singh took control of the troops at Danapur who had rebelled. He took Arrah, the district's administrative centre, two days later. On August 3, Major Vincent Eyre freed the town, dismantled Jagdishpur, and routed Singh's army. His troops had to cross the Ganges river while the revolt was in progress. Their boat came under fire from Brigadier Douglas' soldiers.
The bullet that struck Singh's left wrist broke it. In addition to the increased danger of infection brought on by the bulletshot, Singh felt that his hand had become unusable.
He pulled out his blade, severed his left hand just below the elbow, and presented it to the Ganges.
In December 1857, Singh left his native town and travelled to Lucknow, where he met with other rebel leaders. He took control of Azamgarh in March 1858 and was successful in thwarting the first British attempts to seize the territory. But he soon had to leave the area. He fled to his house in Ara, Bihar while Douglas pursued him. On April 23, Singh defeated the troops commanded by Captain le Grand close to Jagdispur (le gard in Hindi). He perished on April 26, 1858, at his hometown. The former chief's responsibilities were now transferred to his brother Amar Singh II, who led a parallel administration in the Shahabad area for a protracted period of time. In October 1859, Amar Singh II joined the rebel leaders in the Nepal Terai.
Conclusion
In his final battle, which took place on April 23, 1858, close to Jagdispur, the British East India Company's troops were completely annihilated. He battled the British Army on April 22 and 23, despite being hurt, and with the aid of his army, he was successful. The battle came to an end when he brought down the Union Jack from Jagdispur Fort and raised his flag. On 23 April 1858, he went back to his palace, and on 26 April 1858, he passed away.
On April 23, 1966, the Republic of India released a commemorative stamp in recognition of his involvement in the Indian independence struggle. The Veer Kunwar Singh University, Arrah, was founded by the Bihar government in 1992.
The Arrah-Chhapra Bridge, popularly known as the Veer Kunwar Singh Setu, was opened in 2017 to connect north and south Bihar. The Bihar government moved a monument of Kunwar Singh to Hardinge Park in 2018 to commemorate the 160th anniversary of his passing. Additionally, the park was given the new name "Veer Kunwar Singh Azadi Park."
---
References: