On October 4, 1904, Kumaraswamy Mudaliar was born in Chennimalai, now Erode in Tamil Nadu, to middle-class parents. His parents could not afford for him to attend school because they were handloom weavers. He was forced to drop out of education in order to increase the family's income and acquire a trade. In accordance with the wishes of his family, he was married off at the young age of 19. During this period, he continued to serve as an assistant in the spinning mill.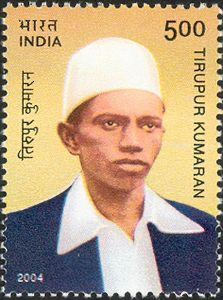 Independence Struggle
Kumaran discovered that he was affected by the nation's growing Independence movement. Tiruppur Kumaran started taking part in the protests after being inspired by Gandhi's ideas and values. He was one of the young revolutionaries that took part, but he left his imprint. He went by the name Tiruppur Kumaran.
With his increasing dedication to the cause, his family started to worry. They would constantly visit him and caution him against joining the movement since his life would be in danger. They would even go to his employment and tell his coworkers to put him down. But Kumaran paid no attention to the pessimistic suggestion. Instead, he participated actively in the campaign for Indian independence and quickly established the "Desa Bandhu Youth Association." These were young people from Tamil Nadu and the surrounding areas who were ready to fight for India's independence. They organised several anti-British protest marches throughout Tamil Nadu. Many individuals were influenced by them, especially young ones.
Gandhi staged a protest in Bombay in 1932, and the British planned to imprison him. All around the nation, there were riots and demonstrations in response to this, including a march for independence led by Thyagi P S Sundaram in Tirupur.
People carried the national flag, which was forbidden at the time of the protests, both in honour and in defiance. Tirupur Kumaran was one of the participants waving the flag. Kumaran didn't leave the area when the British began using lathi charges on the protesters. British police suffered severe losses. Kumaran was struck when they began beating up all the protesters. Despite falling, the young guy kept the flag from touching the ground. As Kumaran's life slowly dwindled away, he lost consciousness, confirming the concerns of his family. Later, the Indian flag was still in his possession as he was discovered on the street, sustaining its honour even in death.
Tirupur Kumaran passed away at the age of just 27. Even though he may not have had a significant impact on the country's freedom, his sense of patriotism, devotion to his country, and selflessness are praised. Tirupur Kumaran, a martyr, is known in Tamil Nadu as "Kodi Katha Kumaran," or "The Kumaran who defended the flag." The Tirupur Kumaran Memorial was built in Kumaran Salai, across from the Tirupur Railway Station, as a tribute to this young Independence warrior. In 2004, a commemorative stamp was issued in Chennimalai, Erode District in his honour as well as the Sampath Nagar Main Road in Erode city was renamed to Thiyagi Kumaran Road.
---
References: