The upcoming film "Razakar" has generated significant anticipation, as its impactful promotional content has left audiences eagerly awaiting its release. The initial glimpses, including the first look and motion poster, have already left a lasting impression on the minds of movie enthusiasts. A grand launch event unveiled the film's teaser, providing a tantalizing glimpse into the powerful narrative at its core.
The Trailer
The trailer begins with a thought-provoking quote: "India attained independence on August 15th, 1947, but Hyderabad did not." This statement sets the stage for a captivating exploration of a somber and often overlooked chapter in history.
"Razakar" promises to reveal the oppression, humiliation, and atrocities suffered by the Hindus of Hyderabad, with a particular emphasis on the Brahmins population. Their suffering unfolded under the authoritarian rule of the Razakars militia during the reign of the last Nizam.
The Production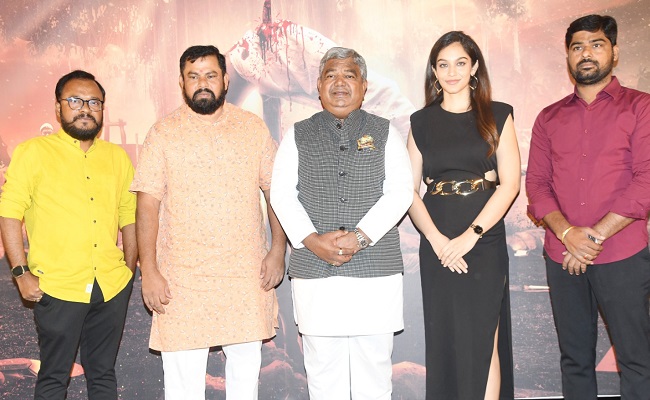 Producer Gudur Narayan Reddy, under the distinguished banner of Samarveer Creations, has brought this cinematic endeavor to life. The trailer itself leaves a profound impact, thanks to its evocative score and visually arresting scenes. It embarks on a journey to unearth the buried and undisclosed truths about the Razakars. The trailer sheds a searing light on the violence inflicted upon Hindus, particularly Brahmins.
Many were compelled to forsake their faith. Those who resisted faced a harrowing fate, becoming victims of genocide.
The trailer provides only a fleeting glimpse of what is sure to be an emotionally charged narrative. "Razakar" is both written and directed by Yata Satyanarayana. Bheems Ceciroleo lent his musical talents to craft a captivating score, ensuring an immersive and impactful cinematic experience. The film boasts the involvement of top-tier technicians who have poured their expertise into every frame.
Impactful Experience
"Razakar" is scheduled to release in multiple languages, including Telugu, Hindi, Tamil, Kannada and Malayalam, ensuring accessibility to a diverse and wide-ranging audience. The film features a talented ensemble cast, including Bobby Simha, Vedhika, Anishka Tripathi, Prema, Indraja, and Makarand Desh Pandey in pivotal roles. Their performances are expected to deeply resonate with viewers, bringing the harrowing narrative to life.
The trailer provides a tantalizing glimpse into this untold story of Nizam rule and the atrocities committed under the Razakars. Anticipation for the film's release continues to soar. "Razakar" aspires to do more than just entertain. It aims to educate and shed light on a dark reality of history that deserves remembrance.