When 24.7 % of the world's population is hellbent upon erasing and decimating a community of 1 billion people, what would one call it? Is it a religious fanatic war, or just a 'democratic voice', as stated by a section of people?
An organisation which has been continually proved and accused of being involved in terror- activities, radicalisation and extremist activities across the country, is PFI. Popular Front of India is said to be a group to empower minorities, Dalits and weaker sections of society. It is a pan- Indian organisation, conducting social and political activities. But to one's amusement, it is not what it is. PFI has been accused of spreading terror activities, now under the claw of NIA.
NIA In Action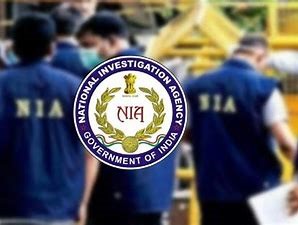 National Investigation Agency has tracked down the largest number of PFI leaders in almost ten states of the country. Telangana, Andhra, Assam, Karnataka and Uttar Pradesh include major locations of the raid. Though accusations and proof against PFI are not new. But it could never generate a national fiery news like that. It was a combined raid by NIA, Enforcement Directorate and the State police. More than hundred workers and leaders are arrested. For a long time it was seen that after so many atrocious crimes against Hindus, the government was as tacit and inactive. But these actions, show a ray of hope for the Hindus. Wolves under the garb of sheep are now being hunted down.
Tamil Nadu | NIA officials are conducting raids at the Popular Front of India (PFI) party office in Dindigul district.

More than 50 members of the PFI are protesting outside the party office against the NIA raid. pic.twitter.com/9jvCOEeZpp

— ANI (@ANI) September 22, 2022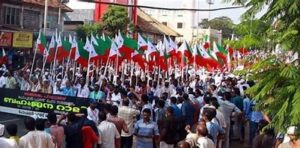 Called the 'largest ever crackdown', now the PFI's black deeds are surfacing. Seizure of digital devices, documents, two daggers and an amount of 8 Lakh rupees. Against two of the PFI extremists, there is a money laundering case of rupees 22 crores. They established a business in Munnar, Kerala to launder money abroad and support radical activities done by the organization. This signals the formation of a terror group, to radicalize Muslim youth. Agencies also discovered homemade explosive devices, 32-bore pistols and seven live rounds in possession.
This shows that on all levels of radicalization, PFI has been active. From finances to street-fight and the continuous brainwashing. Their roots are deep and eager to suck the blood of the Bharat-Mata. Termed to be 'activists', these extremists have been the real masterminds of the recent anti-Hindu heinous crimes.
PFI Vision 2047 (Thread)

In this thread, U will get the answers of-

1. What is PFI n their plan for 2047
2. Why BJP is trying to outreach SC/ST, OBC n Muslim
3. Why BJP, RSS portray itself secular
4. Why Modi brought Agniveer scheme

1/21
Pic Credit : The Print pic.twitter.com/FS6W7Wxvnh

— Agenda Buster (@Starboy2079) September 23, 2022
Violent Activities By PFI
There are many criminal acts of violence carried out by PFI. Kerala chopping off the hand of a professor to working as a support system of the Islamic State. The organisation has also been linked with the Ram Navami violence eruption in Goa, Rajasthan, Madhya Pradesh, Jharkhand and West Bengal. If this is a group to empower weaker sections, why is it always linked with violent activities? Can anyone name any other work of social upliftment or construction done by them? But the pseudo-intellectual cabal is crying over the crackdown. The Islamic- Marxist alliance after a long time has got a shock. It seems the action by Amit Shah is indigestible to them.
CONDEMN
Raids in PFI Centres

An attemp to Suppress
Democratic Voices

Campus Front of India pic.twitter.com/md3vsBwi2B

— Campus Front of India (@CampusFrontInd) September 22, 2022
Kerala | Popular Front of India (PFI) calls for a one-day state-wide strike on 23rd Sep over NIA raids and the arrest of some of its leaders.

— ANI (@ANI) September 22, 2022
What's In Store For Hindus?
The sunlight seems to approach. As Hindus, there is a need for support from the government to balance out the rules and regulations which are in the favour of radical ideologies. Dharmik and the national interest always stand first. How much prosperity or GDP one acquires, what if, it goes laundered? Radicalization is not just the hidden termite, it is visible like oral cancer which has throughout the history of independent India been devouring the Great Banyan. Ganga- Jamuni tehzeeb can never be the leading slogan. Rather, accepting the truth, identifying the evil and decimating it to the root must be the goal. The government now must take a stand, to uncover these masks. Dharmik order is working incessantly towards creating awareness against radical-political ideologies. Now the demand has to be this- PFI to be banned!
---
References