Savarkar and Tipu Sultan Controversy
The Islamist goons in Shivamogga, Karnataka, have sparked controversy once again by their unnecessary provocative actions. This is another unnecessary controversy over the legacy of Hindu icon Veer Savarkar and Islamist brute Tipu. The hatred of Savarkar by the leftist cabal and the Islamists is rooted in their fear of losing the narrative war.
Islamic Hatred
It's the 75th anniversary of India's independence, and fanatic Islamists are doing everything in their power to perpetuate hatred. Islamic fundamentalists and haters usually work on a singular agenda, namely Ghazwa-E-Hind. By spreading hate and violence, these Islamic brutes also managed to spoil the beautiful Independence Day celebrations.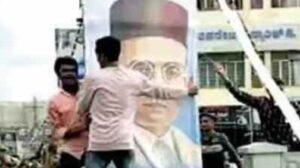 The Incident
Savarkar was not only a Hindu icon but also a true Patriot who fought against British rule. Media reports indicate that Bajrang Dal activists led by BJP leader Deen Dayal installed a poster of Vinayak Damodar Savarkar in Shivamogga. As a result, some fanatical and violent Muslim youths gathered and caused a ruckus by erecting a banner of Tipu Sultan. As tensions rose, the police intervened and chased them away.
A 20-year-old man named Prem Singh was brutally stabbed during the unwarranted clashes. In the violent attack, another Hindu, Praveen Singh, was also stabbed. As a result, Section 144 has been imposed in both Shivamogga and Bhadravathi. During the arrest, the accused attempted to attack the police. Among the accused are Nadeem (25), Abdul Rehman (25), Tanveer, and Jabiullah.
The leftists' hatred for Veer Savarkar is not a surprise. There has been no stone left unturned in their malicious attacks on him. It doesn't matter what Congress, liberals, and Islamists say, he remains a hero of history. Throughout his life, he fought relentlessly to preserve Bharat's civilizational history.
Although Tipu Sultan is hailed as the 'secular' ruler of Mysore, he was one of the most ruthless Islamic invaders of South India. Besides plundering and looting wealth, he tortured Hindus and envisioned India becoming an Islamic country. The pseudo-intellectual cabal is experiencing considerable pain now that the real heroes of India are being accorded their due place. We need to rewrite history and remove barbaric Islamic tyrants and Islamists from the pages of history that glorify them.
---
References: